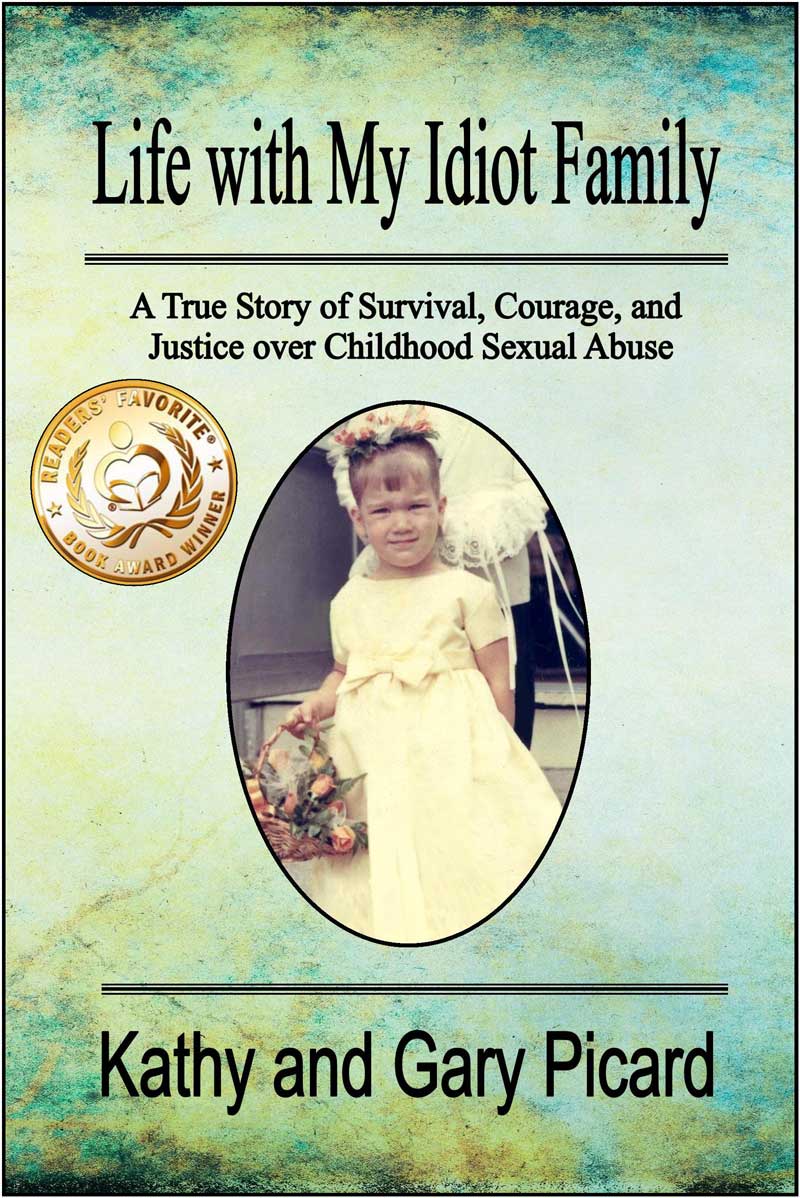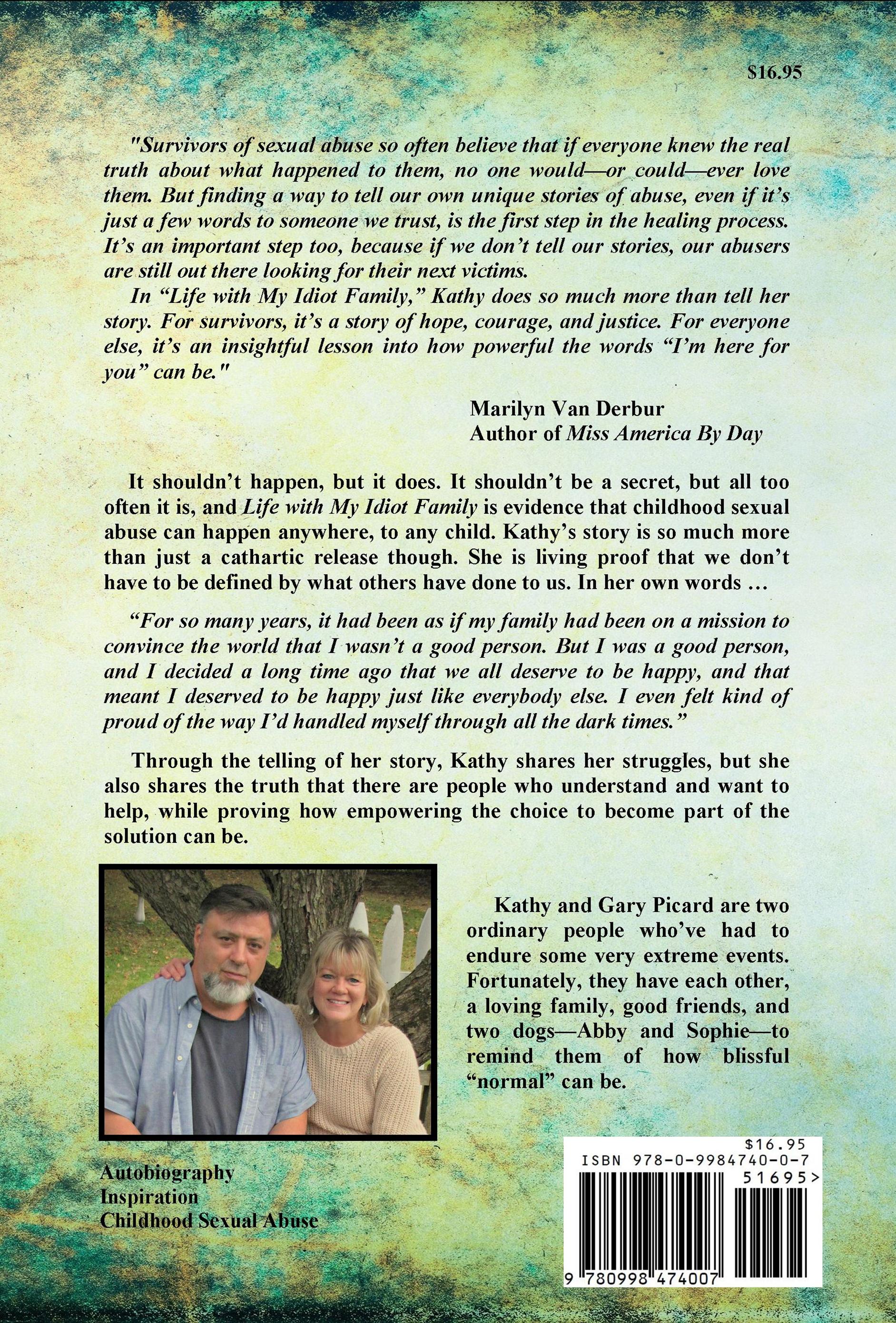 From the Author
This book took over five years to write. Gary and I did it as a husband and wife team, proving that you can accomplish big things when you share your dreams with the right person.
We wrote this book for three different people. First, we wrote it for survivors so they would know that what happened to them doesn't have to control them for life.
Second, for people who support survivors, because survivors need to know that the people they care about, care about them.
And third, for professionals who work with survivors, to help them get a better understanding of what happens to people when they are abused.
Thank you for reading and sharing my story!
Life with My Idiot Family: A True Story of Survival, Courage and Justice over Childhood Sexual Abuse
Kathy and Gary Picard
There is no denying the disturbing statistics of childhood sexual abuse. According to the National Child Traumatic Stress Network, with children 18 years and younger, one in four girls and one in six boys is a victim of sexual abuse. For author Kathy Picard, the pain and lasting impact of this horrendous crime was an inescapable chapter of her life, one that shamed her into silence for many years.
In her book, Life with My Idiot Family: A True Story of Survival, Courage, and Justice Over Sexual Abuse (Lake Town Publishing – March 2017), co-authored with her husband Gary, Kathy Picard chronicles her abusive childhood, and the process of how she found her voice and used it to become a dedicated activist and educator, playing a transformative role in the way other survivors are able to seek justice.
A compelling read with disturbing twists and turns, Kathy Picard tells the story of how, at the age of seven, her sexual abuse began and became a painful and relentless part of her life well into her teens, robbing her of her innocence and childhood. Gradually, Kathy was able to find the courage to speak openly about what she had endured, in spite of the pressure and repeated denials of the family she grew up in, and became even more determined to seek justice.
One pivotal development in Kathy's quest for justice required the monumental task of challenging the outdated statute of limitations for sex abuse crimes in the state of Massachusetts, an obstacle that "stacked the deck" against abused individuals who were unable to find the strength they needed to come forward by their 21st birthday. Too many victims and survivors need decades to confront the painful events they've suppressed and denied simply to get through their everyday lives. Her persistent and tireless work of reaching out and petitioning legislators and other influential figures has been acknowledged by many leaders in the fight to protect victims of sexual abuse.
As an advocate for education designed to encourage children to speak out when they are confused, scared, or being victimized, Kathy Picard has formed alliances with other courageous survivors of sexual abuse, including individuals affected by the widely publicized sexual abuse of children by clergy of the Catholic Church system in Massachusetts.
Life with My Idiot Family will inspire people to speak out and add their voices to the nationwide cry for reform in the way sexual abuse is investigated and prosecuted in the U.S., and remind us all that one person can make a difference when it comes to preventing incidents of this kind from occurring and robbing innocent young people of their confidence, self-esteem, and ability to trust.
Kathy Picard is an accomplished speaker who has made a difference in the lives of countless victims of sexual abuse crimes. With the publication of her book, she looks forward to connecting with an even wider audience, joining many notable celebrities and politicians in the fight to ensure that the victims of this terrible crime are treated with the respect they deserve.
"Sad. Painful. Those are the words I come up with after reading Kathy Picard's book. She takes her readers back to share experiences from an awful childhood, sharing details that can only make you shudder with contempt and loathing for a man who should never be called a 'daddy.' I learned so much from reading this first-hand account from a sexual abuse survivor.
Though I have never experienced such abuse myself, I have helped others (such as my husband) work through the pain that can last for decades. This book is not light reading but I would recommend it for anyone who wants to understand what it really means to be a survivor. And it's required reading for anyone who wants to counsel or support others who have been sexually abused."
Gail Huff Brown,
TV Reporter,
Wife of U.S. Ambassador, Scott Brown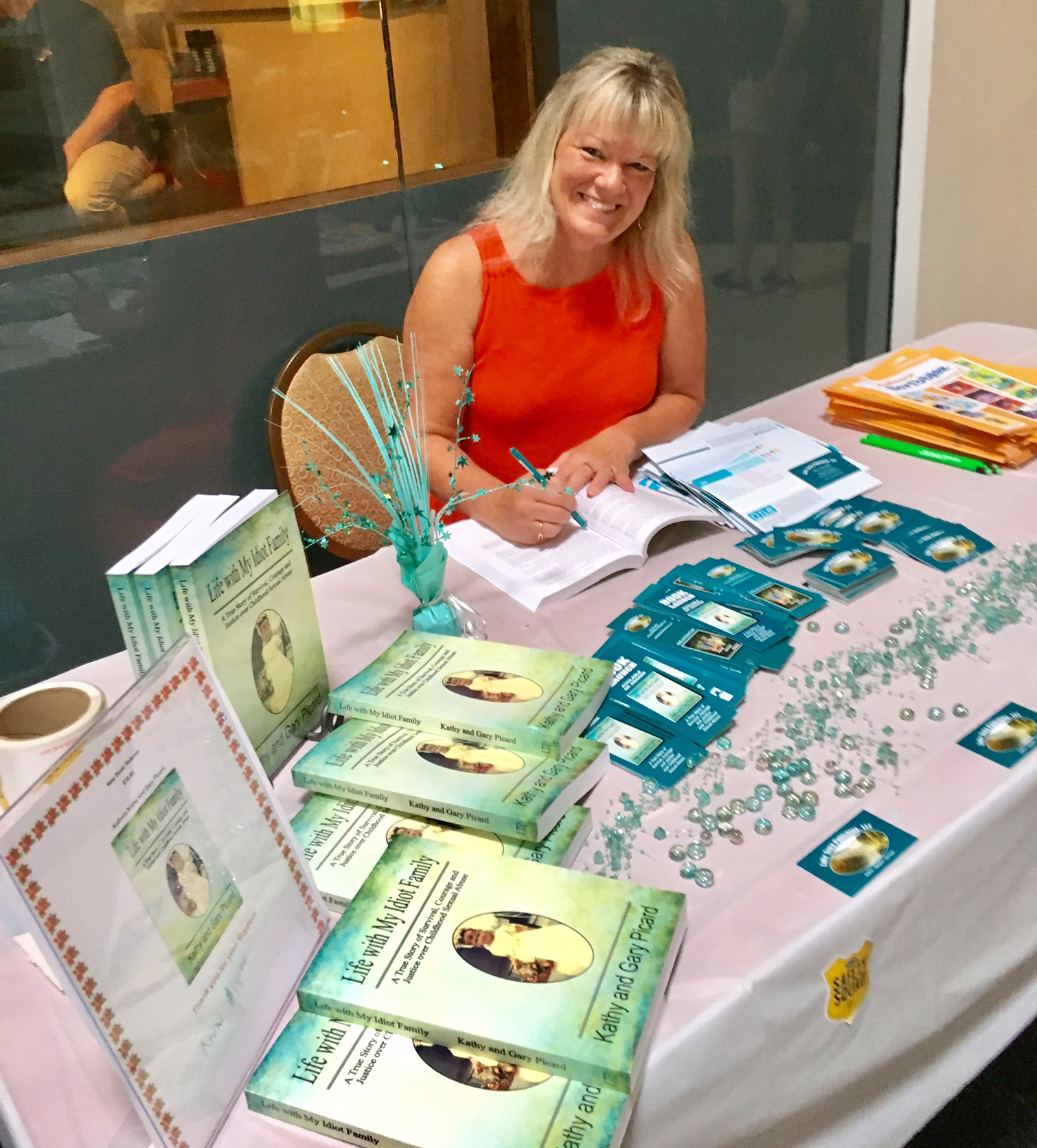 "Kathy is fierce! She is a trailblazer on a mission, pushing the boundaries by openly addressing child sexual abuse! Not only is her story frank and vivid, it is a window into the long journey of recovery for survivors. Child sexual abuse does not respect education, socio-economics, color, or gender. It happens, it's real, it can happen to any child, and it's up to us to protect our children."
Audrey Murph Brown,
MSW, LCSW, Ed.D